At Porta Potty Rental, we believe that no one should ever have to "hold it" because there are no restrooms around. Our team can assist with porta potty and portable toilet facilities for every type of event, whether it's a massive rock concert or a small construction project building a new church.
Below are just a few of the different types of jobs that our clients have relied on us for. If you have questions or want to chat about your event or project, call us toll-free at 800-900-1084 or visit our contact page!
Porta Potty Rental for Special Events
Porta Potty Rental is your experienced partner in handling all of the restroom facilities for special events ranging from family reunions to weddings to massive concert festivals. If you plan on having more than a few guests, it's critical that you are properly prepared with adequate porta potty or portable toilet facilities. Nothing is worse than having a lot of people that need to "go", and just a single toilet for them to use!
Porta Potty Rental offers a number of different options for special event rentals. Organizers can choose from standard urinal/toilet combination porta potties, deluxe porta potties with sinks and paper towels, and even porta potties that have flushing ability to give the true portable toilet feel. The ability to place porta potties depends on variables such as space and running water, so it's best to speak with one of our experts who can help you determine exactly what you'll need.
For those that intend on having a lot of finely-attired guests in attendance, or if your event location will be in a grassy field or rainy area where you're worried about guests walking through the mud, Porta Potty Rental can assist with restroom trailers. These portable units are much larger, and offer walk-in facilities that include urinals, toilets, sinks, towel units, and can even be hooked up with running water.
If you're planning an event where the guests will be eating, Porta Potty Rental also recommends budgeting for washing stations so that your guests can be as clean as possible. Get in touch with us for more information.
Porta Potty Rental for Construction Sites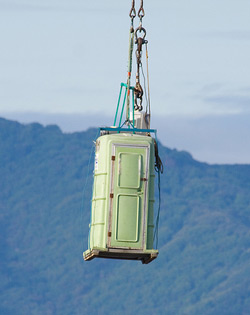 Porta Potty Rental has worked with many different construction sites ranging from flat land to skyscrapers, and can help you determine how porta potties and portable toilets will fit in to your site plan. There's no construction job that is too large or too small for our porta potties – we can help you ensure that your workers have access to the same amenities that they would have in a standard restroom.
For contractors and developers that are building multi-story units or skyscrapers, Porta Potty Rental can supply porta potties that are capable of being used in hi-rises.
Contact us for further details and we'll explain how these units work.
Wheelchair Accessible Porta Potties
For those who are going to be hosting guests or employees that are disabled or make use of a wheelchair, Porta Potty Rental is happy to offer wheelchair-accessible porta potties. These porta potties are built to the Americans with Disabilities Act (ADA) Standards for Accessible Design, and can accommodate a full-sized wheelchair without any discomfort to the user.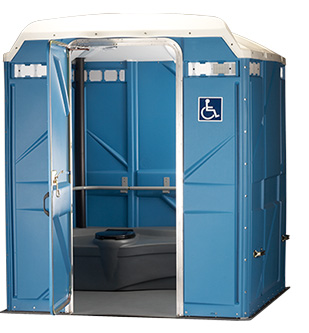 If you're unsure about whether or not you need to have wheelchair accessible porta potties at your event or construction site, please contact us. One of our team members will be happy to assist you in determining your needs and ensuring that you have the best possible setup for your portable toilets.
Porta Potty Rental during Home Renovations
Porta potty and portable toilet rentals aren't just for businesses and special events. Homeowners across the country make use of porta potties during renovations, flood repairs, plumbing issues and more. Even if you just need your porta potty for a few days – it's no problem. Porta Potty Rental is happy to get a unit delivered to you as soon as you need it, so your family isn't left without proper facilities. Contact us for more information about our home services!
Don't forget – Porta Potty Rental is proud to offer a completely free, honest price quote for every porta potty or portable toilet job! All you need to do is get in touch with us, and let us know what you are planning and how many people you'll have making use of the facilities. You can contact us toll-free at 800-900-1084, or browse over to our contact page to fill out a quick form and one of our professional staff members will respond to you promptly. Thanks for choosing Porta Potty Rental and we look forward to having you join our family of satisfied clients!