Easy Porta Potty Rental Service!
Welcome to the home of Porta Potty Rental, serving the portable restroom facility needs of special event planners, construction sites, individuals and organizations across the United States. Whether you're in need of porta potties for a small group of workers or a festival expecting tens of thousands of attendees, Porta Potty Rental will ensure that everything is properly handled so you can work on other more important aspects of your work.
We know that porta potties aren't the sexiest business, which is why our team works hard to make things easy on our family of clients. When you book through Porta Potty Rental, you're working with a trusted partner that has experience dealing with site layouts and crowd volumes of every sort. For more information, contact us today at 800-900-1084 or feel free to browse around the site to read more about our services and offerings. Thanks again for visiting and we look forward to speaking with you!
Porta Potty Rental and Portable Toilet Services
Planning an outdoor special event such as a concert, festival, air show or wedding? When you plan on having guests in areas that do not have access to restroom facilities, Porta Potty Rental can assist you with providing them – regardless of the size of your crowd. Our team is experienced in working with individuals and organizations that are planning outdoor events and our competitive pricing will leave you with a smile. When you start drawing up the plans for that massive outdoor concert, get in touch with Porta Potty Rental and we'll help you sort out the portable restrooms.
Construction, demolition and other outdoor contractors that are working in areas without restroom access love our porta potty and portable toilet services. Whether you need facilities on the ground or up in the shell of the building you are constructing, Porta Potty Rental will ensure that your needs are well taken care of. We have experience in working with construction sites in a range of sizes and needs, so when you're ready to start breaking ground give us a call and one of our professional staff members will consult on how to handle your portable washroom facilities.
Those that operate outdoor facilities such as sports fields or parks may be interested in semi-permanent porta potty rentals. These portable toilets are installed during your busy season, or year round, and can either service as primary restrooms or as overflow for your busy periods.
Finally, Porta Potty Rental even offers porta potties for short-term use when restroom facilities are out of order, such as home bathroom renovations. No matter what your needs, it's likely that Porta Potty Rental will be able to provide you with the perfect temporary restroom solution.
For more information, click here to access the "Our Rental Services" page.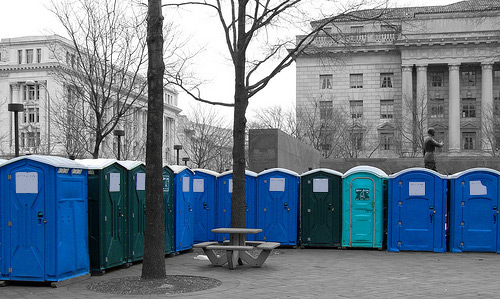 Porta Potty Rental is Available Nationwide
We're very proud to say that we have clients throughout the 48 contiguous states that have made use of our services for events ranging from outdoor weddings to concert festivals. Porta Potty Rental not only handles the delivery and setup of porta potties, portable toilets, restroom trailers, washing stations and other portable washroom facilities, but we can also consult on the best place to have these facilities on your site and even sort out the cleaning and maintenance.
Please click here to visit our service area page
to view all of the states and towns that we operate in, or you can just give us a call at 800-900-1084 and we will be happy to set you up with a free quote and a delivery date.
Pricing of Porta Potties and Portable Toilets
Trying to determine how many porta potties you're going to need for your special event or construction site? Estimating restroom use can be incredibly difficult as there are a number of variables that have to be taken into consideration. For this reason, we've put together some rough estimates on how many porta potties or portable toilets to rent based on the expected number of event attendees or workers that will be using them.
For more information, click here to visit our Porta Potty Rental Prices page or you can always contact us to discuss your needs.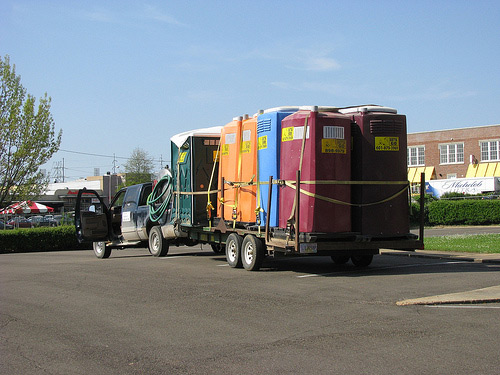 Questions about Porta Potty Rental? We have Answers!
Did you know that porta potties are available for individuals with disabilities, those in wheelchairs and even small children? When you're booking a new service for the first time, it's common to have a lot of questions. However, it can be frustrating to be without immediate access to answers, especially if you are reading this webpage after business hours and just want to know a thing or two about renting porta potties.
For this purpose, we've set up a quick "frequently asked questions" page. On this page we try to answer the questions that are most commonly asked in phone calls to Porta Potty Rental, or in emails that we receive from our contact page. Browse on over to our FAQ page to gather a bit more information about renting porta potties or portable toilets, and if you find that your question isn't answered there please don't hesitate to give us a call at 800-900-1084 and one of our staff members will be happy to assist.
Contact Porta Potty Rental Today for a Free Quote!
At Porta Potty Rental we believe that every one of our clients should be offered high levels of service at fair, competitive prices. That's why we offer a completely free, no obligation price quote for every porta potty rental job!
Simply give us a toll-free call today at 800-900-1084, or head on over to our Contact Us page. Share as much detail as possible about your event or construction project as you can, and one of our friendly staff members will get back to you promptly to discuss your needs and get you some of the best pricing for porta potties and portable toilets in the business.
Check out our primary service areas!